Heavy Fabrication
Heavy Fabrication: Forming and welding with big dimensions 18.000 sqm site, up-to-date and heavy duty machines, purpose-skilled employees, all important welding procedures – EEW-PICKHAN provides conditions for perfectly forming very large and very thick plates.
Our new 3.000 tons press or our 1.400 tons press are some examples, as well as our equipment for special weldments up to 100 tons unit weight.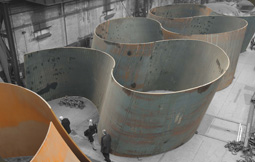 Heavy Fabrication Van den Anker
Th. J. van den Anker is a sales office located in the Netherlands and located in Belgium for a wide range of companies who deliver products and components for the transportation and processing in the oil, petrochemical, chemical & pharmaceutical industries, products for water transport and components for the manufacturing of pressure vessels, storage tanks and heavy lifting equipment. Please contact us for more information about the possibilities for your company.